Finlàndia, terra de llibertat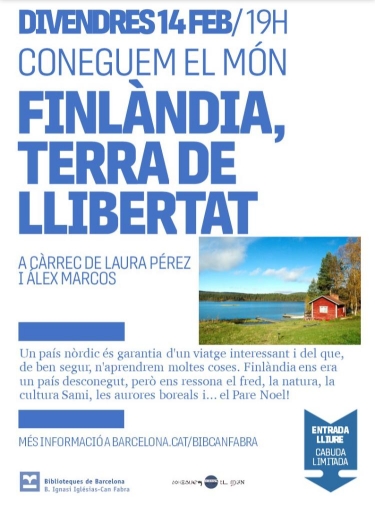 [CA]
El passat divendres 14 de febrer clarobscur i jo vam fer una xerrada del nostre viatge a Finlàndia a l'auditori de la Biblioteca Ignasi Iglesias-Can Fabra de Sant Andreu (Barcelona).
Amb el suport de vídeos i fotografies vam compartir la nostra experiència, curiositats i anècdotes, fent un recorregut cultural, gastronòmic i de natura per aquest interessant país.
Aquesta conferència ha estat coordinada a través del col·lectiu de viatgers Coneguem el Món, que cada mes organitzen xerrades viatgeres al mateix centre Can Fabra per donar a conèixer diferents indrets del planeta fora del turisme de masses.
Més informació:
Si voleu programar aquesta o una altra xerrada al vostre centre, no dubteu a contactar-nos!

[EN]
On 14th February clarobscur and me gave a talk about our trip to Finland in the auditorium of the Ignasi Iglesias-Can Fabra Library of Sant Andreu (Barcelona).
With the support of videos and pictures, we shared our experience, curiosities and anecdotes, offering a cultural, gastronomic and of nature tour around this interesting country through our eyes.
This conference has been coordinated by travellers collective Coneguem el Món, who organize traveling talks each month at the Can Fabra center to make know different places on the planet outside of mass tourism.
More info at:
If you want to program this talk at your center, don't hesitate to contact us!